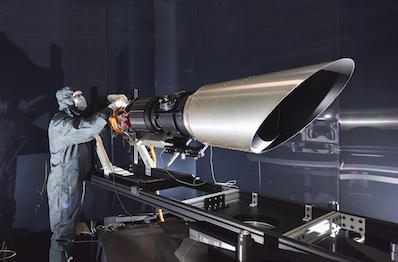 Best in Class
Customized for Your Mission
Without accurate star trackers, a spacecraft would lose its way in space. Used in civil, commercial and defense satellite systems, Ball star trackers deliver the best performance in the industry. The star tracker we developed for NASA's Chandra X-ray Observatory led to our High Accuracy Star Trackers (HAST), the highest accuracy of any star tracker ever flown on a space system. Capable of tracking multiple stars moving from 0 to 8 degrees/second, the HAST delivers best-in-class performance in the industry.
For airborne, shipboard, and terrestrial applications, we also supply daylight star trackers to give you attitude and position knowledge when GPS is not available. Whatever your mission, we can quickly customize star trackers to your specs.
Affordable, Commercial Solution
A Fully Domestic Star Tracker
Ball is leveraging the HAST history with its latest, commercially available star tracker, the CT-2020. The CT-2020 is guiding the way with a fully domestic, low-cost, high performance star tracker. This new technology is funded under a grant from the Defense Production Act Title III, which will bring secure systems and flight software to our nation's most important missions.
CT-2020 comes with operational flexibility, in a compact design. This new line of star trackers integrates the latest Complementary Metal Oxide Semiconductor (CMOS), detector technology built specifically for star trackers.
With more than 50 years of reliability in the star tracker market, Ball brings the domestic, high-performance, CT-2020 to customers at an affordable cost. Ball is now accepting orders for the CT-2020.
CT-2020 Star Tracker
Learn about how the fully domestic star tracker is enabling the future of celestial navigation.
CT-2020 Fact Sheet
Learn more about how Ball is developing a low-cost, U.S. sourced star tracker.
HAST Fact Sheet
Learn more about our High Accuracy Star Trackers.